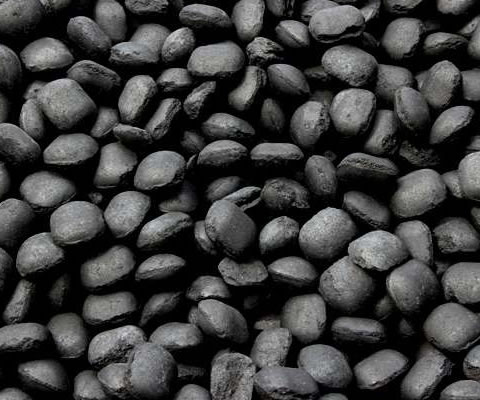 There is a saying.... "You only get out what you put in," with regard to the types of food humans eat. Well, it's the same for your wood-burning or multi-fuel stove, which requires accurate operation in order to function efficiently; this includes choosing the right fuel to increase the heat output and reduce maintenance of your appliance.
Why you should only used properly seasoned wood in your wood-burning or multi-fuel stove....
Unseasoned wood is wood which has not been dried out for over a year. Wood which has been properly seasoned contains only 15-25% moisture. If there is too much moisture in the wood excessive smoke is produced and more energy is used burning away the water content. Dry wood burns more efficiently, heating your room, producing less smoke and prevents vapours from condensing into creosote (or tar) on the sides of your chimney.
When wood has been properly seasoned it is darker on the outside and whiter on the inside compared with freshly cut logs. You should be able to see cracks on the surface of seasoned wood.
If you burn unseasoned wood you will run the risk of creosote (or tar) build up in your flue, which not only causes your stove to work less efficiently, but erodes you chimney lining and increases the risk of chimney fires. Bear in mind that most modern stoves have a baffle and secondary air system which are designed to maximise the volume of gas burned inside the firebox and minimise the gas released into the flue. But the best way to combat this is to use seasoned or dry wood and have your chimney swept on a regular basis.
Using an Approved Wood-fuel Merchant...
The Approved Wood-fuel Merchant Scheme was launched in July 2012. The Scheme lays down the basic standard of service for wood fuel retailers. This means that customers buying firewood from a Scheme member like Pearsons of Duns, can be confident that the firewood is correctly described (i.e. kiln dried, seasoned hardwood, seasoned softwood or unseasoned) and that the advice provided on the safe and efficient use of wood burning appliances is certified.
Why you should use coal or smokeless fuel from a Diploma Approved Merchant in your multi-fuel stove....
So why use an Approved Coal Merchant? First and foremost, Coal Merchants like Pearsons of Duns are part of the SFA Approved Coal Merchants Scheme.
This means that they follow the Coal Trade Code which is monitored by the Solid Fuel Association. SFA] "The Coal Trade Code began in 1962 as a joint financed venture between the National Coal Board and the wholesale and retail parts of the domestic coal trade. The Solid Fuel Association whose members include the major solid fuel producers/manufacturers and the distributive coal trade now finance the scheme. The scheme was created so that standards could be set for coal merchants and, in particular, a system could be developed to show their customers that they were keeping to those standards. The Code is administered by a National Panel with an Independent Chairman."
Using an Approved Coal Merchant will ensure that;
Supply good quality coal and smokeless fuel correctly described
Ensure that packed fuels are marked with maximum information
Ensure that staff have a basic knowledge of the Retail Coal Trade
Supply suitable fuels for particular appliances
Investigate all consumer complaints properly
Display a detailed and up-to-date price list
Trade in a manner compatible with the good repute of the Retail Coal Trade
Make customers aware of the danger of carbon monoxide poisoning from burning fossil fuels and how they can obtain information to protect themselves
Top Five Reasons to use Smokeless Fuel in your Multi-Fuel Stove:
Longer fire life: Smokeless fuels give out a higher heat and can last as much as 40% longer than coal.
Save Money: Burning premium smokeless fuels is much more cost effective than ordinary coal and will actually work out less expensive over the course of a year. The heating efficiency on an open fire is 37%, using a preformed smokeless such as Excel compared to the 28% generated by traditional house coal. If you were to use the same fuel on your multi-fuel stove this figure leaps up to 65%. This means more heat makes it into your room rather than being wasted up the chimney. This, coupled with the fact that Excel burns 40% longer than house coal, means that you end up using less fuel and spending less money to create your required heat. Switching to premium smokeless coal can cut your heating bills significantly over the course of the year. And a minor point - You spend less time re-fuelling the fire.
Kinder to the environment: Without doubt, smokeless fuels are kinder to the environment than coal. Indeed, as their name suggests, a concern for the environment is right at their heart. Smokeless fuels were developed to create smoke free areas across the UK and improve air quality in the urban environment. Smoke emissions for premium smokeless fuels are a fraction of these from coal (which is usually around 20%).
Lower Carbon emissions: These days it's not just smoke that's an issue, it's carbon monoxide. Our smokeless fuels have lower carbon monoxide emissions than house coal. A coal fire can create up to 20% more carbon monoxide than a fire that uses a premium smokeless fuel. You can purchase a carbon monoxide and smoke detectors from our Build Centre.
Cleaner Appliance: When burning house coal on a closed appliance the tar and smoke particles released during the lower temperature lighting and refuelling periods can find their way onto the stove glass. While most modern appliances have pre-heated airwash capabilities to keep the glass clear even the best system will struggle to cope with the volume of tar and dust generated by burning house coal. The end result is that the appearance and enjoyment of your expensive multi-fuel stove is greatly diminished.
You can buy solid fuel online via www.pearsonsofduns.co.uk, we deliver within a 50 mile radius of Duns, Scottish Borders. Open 7 days.